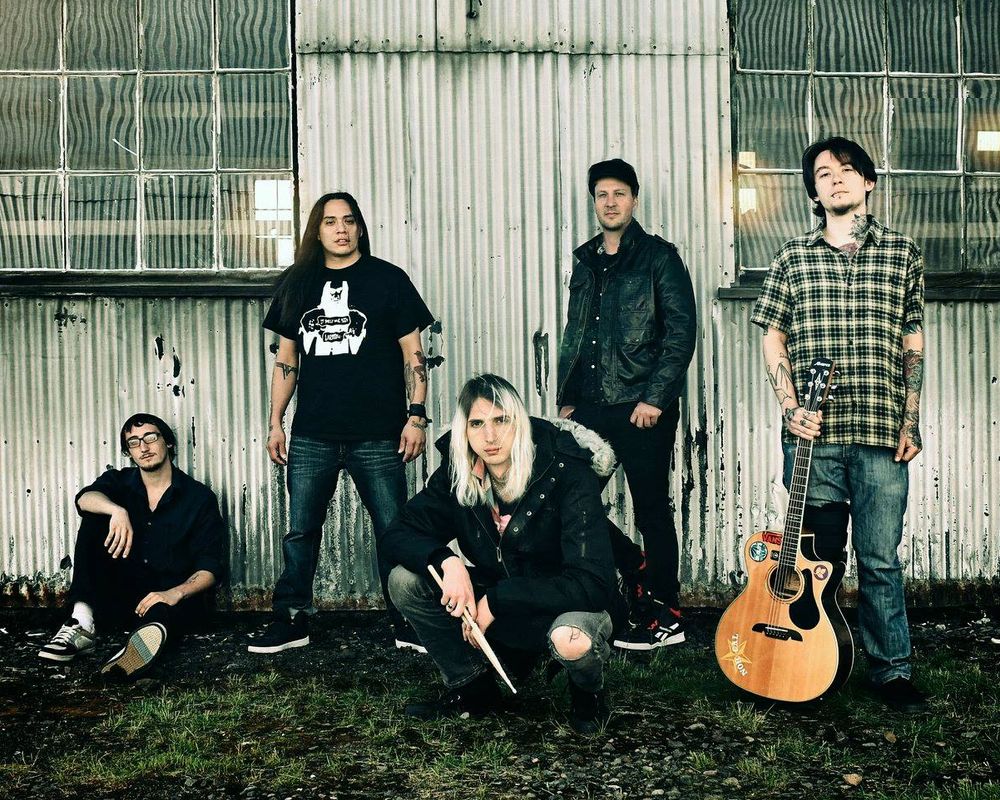 How it Began
"Let's start a band" - Dakotah
"Ya? You're not moving? . . . Very cool. I'm down to start a band!" - Dustin
These were the messages exchanged between drummer Dakotah Webb and lead vocalist Dustin Carter on November 18, 2018. Dustin and Dakotah had met each other through their own musical en devours, and had even played a few shows together throughout the Klamath Falls music scene; Dakotah was in local college band Box Brothers and Dustin Carter was playing acoustic shows and recording solo albums. Little did they know what the next few months had in store.
In need of guitarists, Dustin and Dakotah immediately thought of Jeff Martinez and Travis Siebecke, who had each been involved in the local music scene and had recently started playing music with one another. Sometime in January of 2019, the four of us met up in Dakotah's infamous garage for a jam session. That night, the basis of our first song was completed; we knew something special was in the works.
Next we needed a bassist. One night Jeff invited his neighbor Nicholi Ohbronovich - who also happened to play guitar - to come over and hang out during a band practice. Full of energy and eager to be involved, Nich immediately asked if he could slap on a bass and began to jam with us. All of the pieces of the puzzle were finally together and the magical moments of song writing began. After a few different versions of a band name, Knight Owl was chosen. However, upon the release of their first demo, the band name was changed to Owls & Aliens and has become the one you'll never forget. So enjoy the ride with us as we take on the world.
ABOUT US
Owls & Aliens sound is best described as an amalgamation of the world's most quintessential styles of rock and metal over the last half century, merging the driving vocals of today's rock and metalcore over punk and grunge rhythms reminiscent of the 90's, with explosive Classic Metal riffs and solos sprinkled throughout. Having just begun their journey as a band, O&A is constructed of 5 completely different musicians, separated by 12 years in age, but connected by their mutual love for creating honest, genuine music.  
Ultimately seeking solace from their rural lives of Southern Oregon, O&A is comprised of Dustin Carter (clean/unclean vocals), Travis Siebecke (rhythm guitar, clean vocals), Jeffry Martinez (lead guitar, backup vocals), Nicholi Ohbronovich (bass, unclean vocals), and Dakotah Webb (drums, backup vocals).  All 5 members come from diverse music backgrounds that create each of their individual styles, with varying levels of previous experience. Although different in style, each member has dealt with harsh upbringings, addiction, mental illness, homelessness, etc. that is apparent in their playing because of their own personal understandings of these topics. The O&A writing process is completely organic, never forced, and unable to comply with a certain genre. 
Riddled with untapped potential, O&A released their first and only single thus far, Mercy, on May 8th, 2020. The song was recorded with Sean Stack of Fat Cat Recordings Studios in Sacramento, CA, where they managed to get half of their debut album recorded before restrictions completely shut down the studio. Consequently, Sean has since relocated to Austin, Texas, however, O&A already has plans to finish recording the album, with hopes of it being released by the end of 2021. Owls & Aliens are currently planning the release of their first official music video for their new song You Can't Save Everyone, which is set to debut this summer and bound to captivate whomever it reaches.  
Being from a small, isolated town in the middle of the high desert has not stopped Owls & Aliens from playing live shows. In the 8 months they had together prior to the pandemic, O&A managed to play over 2 dozen shows, both with local favorites and touring bands. Due to the lack of opportunity throughout their area, O&A often had to bring the venue to their very own home by hosting shows with other bands in the garage. Moving forward, Owls & Aliens has already begun booking shows for 2021, and with the end of regulations in site, are ready to play as many shows as humanly possible.